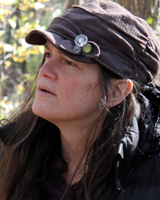 Elizabeth Clay has been making art for most of her life. Her art started in childhood with sewing, drawing, and gardening. In high school and college she studied photography, followed by studies in landscape design at the University of Minnesota.
Every step in Elizabeth's artistic process is guided by an appreciation of the identity of the subject and the natural properties of the materials. Although she may begin with one subject matter in mind, she remains open to a spontaneous and complete transformation of the subject matter once the painting is in process.
Elizabeth's art includes collage paintings, jewelry, photography, and landscape design. She has shown her work at Minnetonka Center for the Arts, CorAzon, LoLa Art Crawl, Art-A-Whirl open studios, and Vasaloppet Art Show. She is a member of the League of Longfellow Artists (LoLa) in Minneapolis and the Kanabec County Art Association in Mora, Minnesota and is a founding member of the Bhag Art Group, which meets alternate months in Minneapolis and Ogilvie, Minnesota. Elizabeth is co-owner of River House Arts LLC at riverhousearts.net.
Originals or prints are available from the artist. To inquire, please contact elizabeth@riverhousearts.net.