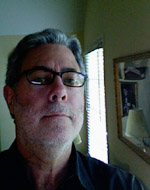 Mark Katzman is the author of two artists books, Along the Way and Inon, and the book I Russian Bride—A Novel in Letters. He has published interviews and articles in Mondo 2000, Internet Underground, Art Papers, radio-v.com, williamorbit.com, and The Review of Contemporary Fiction, among others. In March of 2006, New York Artists Unlimited performed a staged reading of Katzman's play Criss-Cross at DownEast Arts Center, New York City. At the American Museum of Natural History in New York City, Katzman served as web content coordinator for the online project "Imagine, Nature" (imaginenature.amnh.org) in 2003. He is the founder and editor of Artzar.com.
---
more by Mark Katzman at
To provide feedback on the artist's work, please contact editor@bhag.net.