biography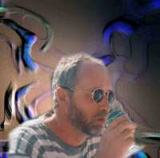 Siegfried Schreck is an artist who not only challenges himself in painting but also shows multi-faceted talents. His paintings can be found in the most prestigious international galleries on the internet. He is winner of the International Art Contest for Digital Art from www.artchallenge.com, December 2000, and received the "Award of Excellence" from Toray Industries, Tokyo, Japan, March 2002 for SUMMER FLOWERS.
Writing lyrics for the legendary German rock singer, Achim Reichel, who toured Germany together with The Beatles and The Rolling Stones back in the 1960s, has made Siegfried Schreck internationally known and has stimulated him to write children's lyrics for a music publisher.

With well over 500 songs to date and very strong poems, Siegfried Schreck has four books published and can be found in several supreme anthologies. This sought after artist with his unique style is contributing the crème de la crème of digital art in our time.
—Evalinde Krammer, www.abs-gallery.com
artist statement
Every time has its own art.
I understand the computer as a suitable medium to transform my feelings, thoughts, and fantasies into visual poetry.
It is the fascination to discover new possibilities in art through the symbiosis of man and machine, to walk through the universe of my soul always in search of new shapes and colours.
See more works at www.vonschreck.de