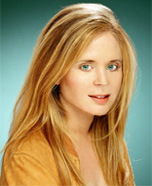 Vicky Oliver writes books that teach people how to market themselves with confidence. She also gives seminars on job-hunting, networking, and the art of branding yourself. Today her first book, 301 Smart Answers to Tough Interview Questions, is available in the US, England, France, Australia, Canada, and Turkey. Her second book is called Power Sales Words: How to Write It, Say It, And Sell It with Sizzle.
Vicky has been featured on the front page of the New York Times "Job Market" section and on over 70 local and national radio programs. She was designated in-house job-hunting expert at the Shomex Diversity Fair at Madison Square Garden. Her articles have appeared in Adweek magazine and on Crain's New York Business website; and she was interviewed for Esquire magazine's "Answer Fella" column.
Vicky believes that job-hunting can be a lonely endeavor and encourages job seekers to contact her via email for advice on their searches. She is in constant touch with over 5,000 recent candidates in all different professions and in all different walks of life: the employed, the unemployed, entrepreneurs, freelancers, retirees, college graduates, and people returning to the job market.
A Brown University graduate with a degree in English Honors and a double major in Political Science, Vicky lives in Manhattan, where she has dedicated herself to helping others turn around their careers and their lives.