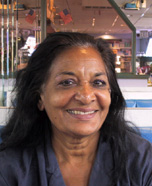 New York theater and visual artist Bina Sharif has written and directed more than 20 plays, performed at Theater for The New City, Mabou Mines, ABC No Rio, and other venues in New York City. As actress, she has performed in her own works and in works by others, including "Epidog" by Lee Breuer. Other directors and producers Sharif has worked with include Fernando Arabal, Maria Irene Fornes, and Robert Patrick. She is the recipient of grants from Franklin Furnace, Theater for The New City, and the NYSCA. Her one-woman play "Afghan Woman" has been performed in the USA and in Pakistan.
In recent years Sharif's dramatic work has crosspollenated a prolific output of paintings in acrylic and other media on paper and canvas. These works, simultaneously global and intimate, are the visual mark of her daily journey through the turmoil and hope of living as a woman in Islam, an artist in America, and an American in the world of post September 11.
See paintings and drawings in Bina Sharif visual art.