Chuck Close interviews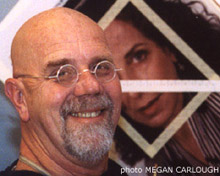 Chuck Close has been helping shape the face of American art since the late 1960s. His paintings have shown at the Museum of Modern Art in New York, the Hirshhorn Museum in Washington DC, the Museum of Contemporary Art in Chicago, the Seattle Art Museum, and museums and galleries around the world. Curator Robert Storr says of Close's style: "Originally associated with photorealism, Close's rigorously systematic approach and often visibly gridded formats more nearly approximate those of the minimal and process artists who emerged alongside him in the late 1960s." Born 1940 in the state of Washington, Close is a graduate of Yale University and a recipient of the Fulbright Fellowship among other honors. He lives and works in New York City.
FINDING THE COLOR WORLD: INTERVIEW WITH CHUCK CLOSE
To provide feedback to the author, please contact editor@bhag.net.